#RESPECT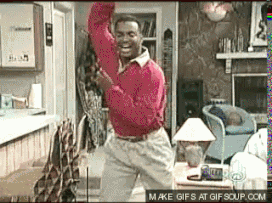 The Carlton Dance is the famous dance that Carlton Banks often does while listening to the song "It's Not Unusual" by Tom Jones. The first time Carlton does this dance is in the Season 2 episode "Christmas Show" (although the first time he does it to "It's Not Unusual" is in the Season 3 episode "Asses to Ashes"). Although he typically does the dance by himself, Will joins him for the dance in the series finale "I, Done (Part 2)", although Carlton continues to dance long after Will stops.
Trivia
The Carlton Dance was inspired by two different dances: One that Courteney Cox does after Bruce Springsteen pulls her up on stage in the music video for "Dancing in the Dark" and one that Eddie Murphy does during his "White Man Dance" routine from Eddie Murphy Raw. 
During Week 4 of Season 19 of the ABC dance competition Dancing with the Stars, Alfonso Ribeiro (who was a contestant) peformed The Carlton Dance with his partner Witney Carson and scored a perfect 40, receiving 10s from all four judges. Ribeiro went on to win that season of Dancing with the Stars.

It is one of two Fresh Prince-inspired dances that Ribeiro performed on the show. During the finale, he also peformed the dance he and Will did to "Apache" by The Sugarhill Gang in "Viva Lost Wages" when they entered the dance competition. 

In the 2017 video game Fortnite, the Carlton Dance is included as a character emote under the name "Fresh".
External Links